Send me an email when this product is back in stock.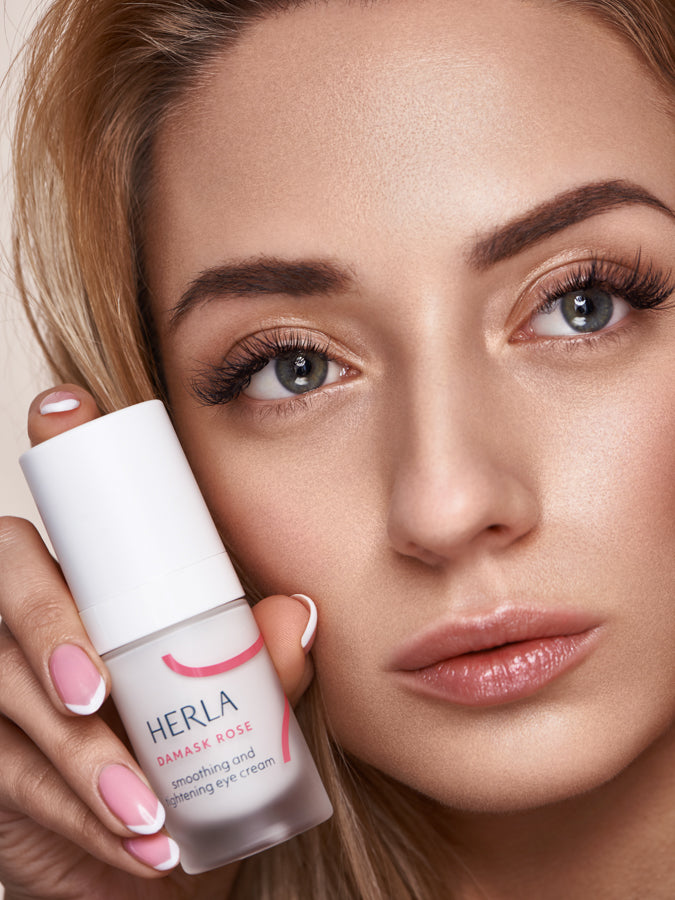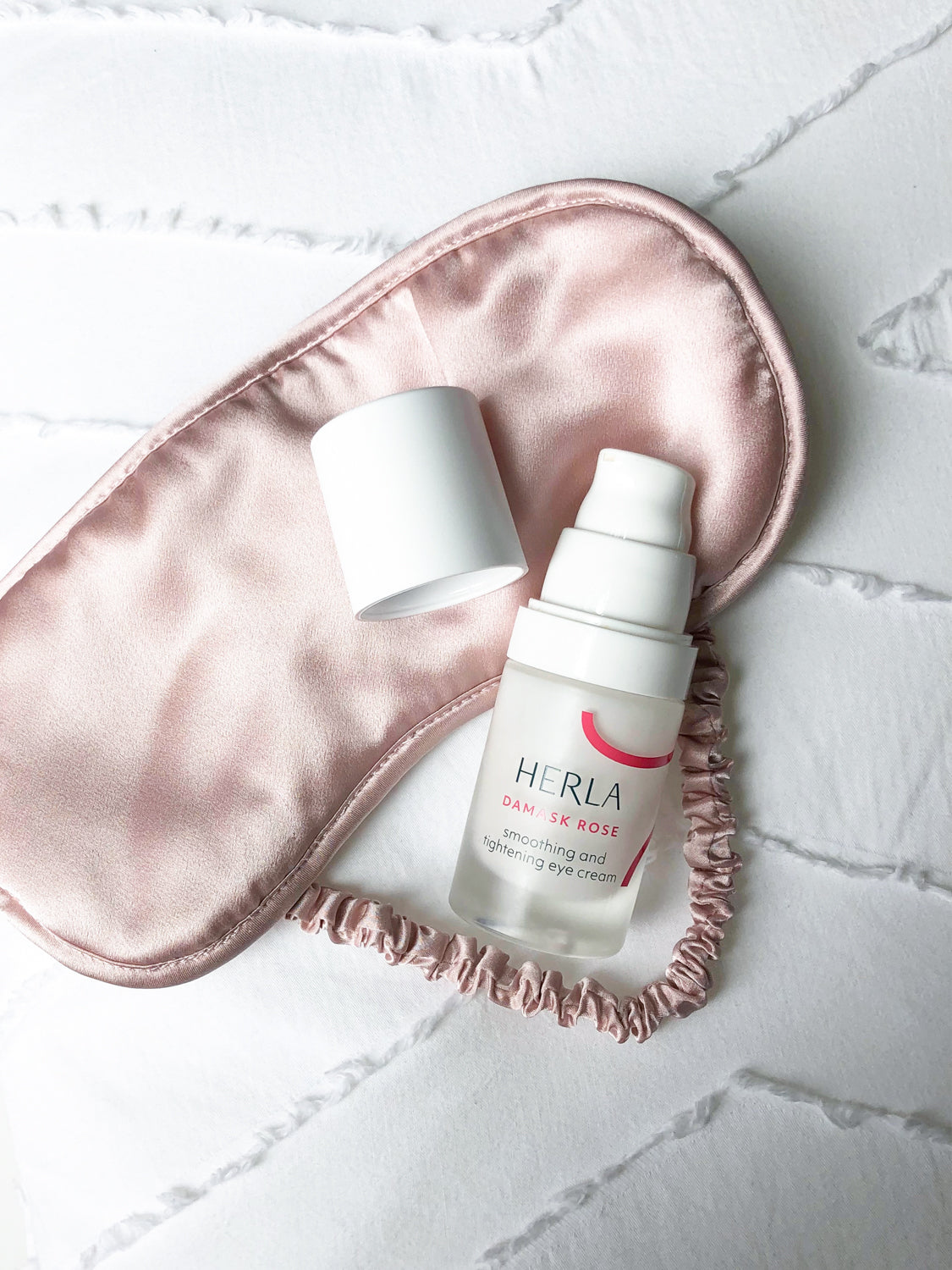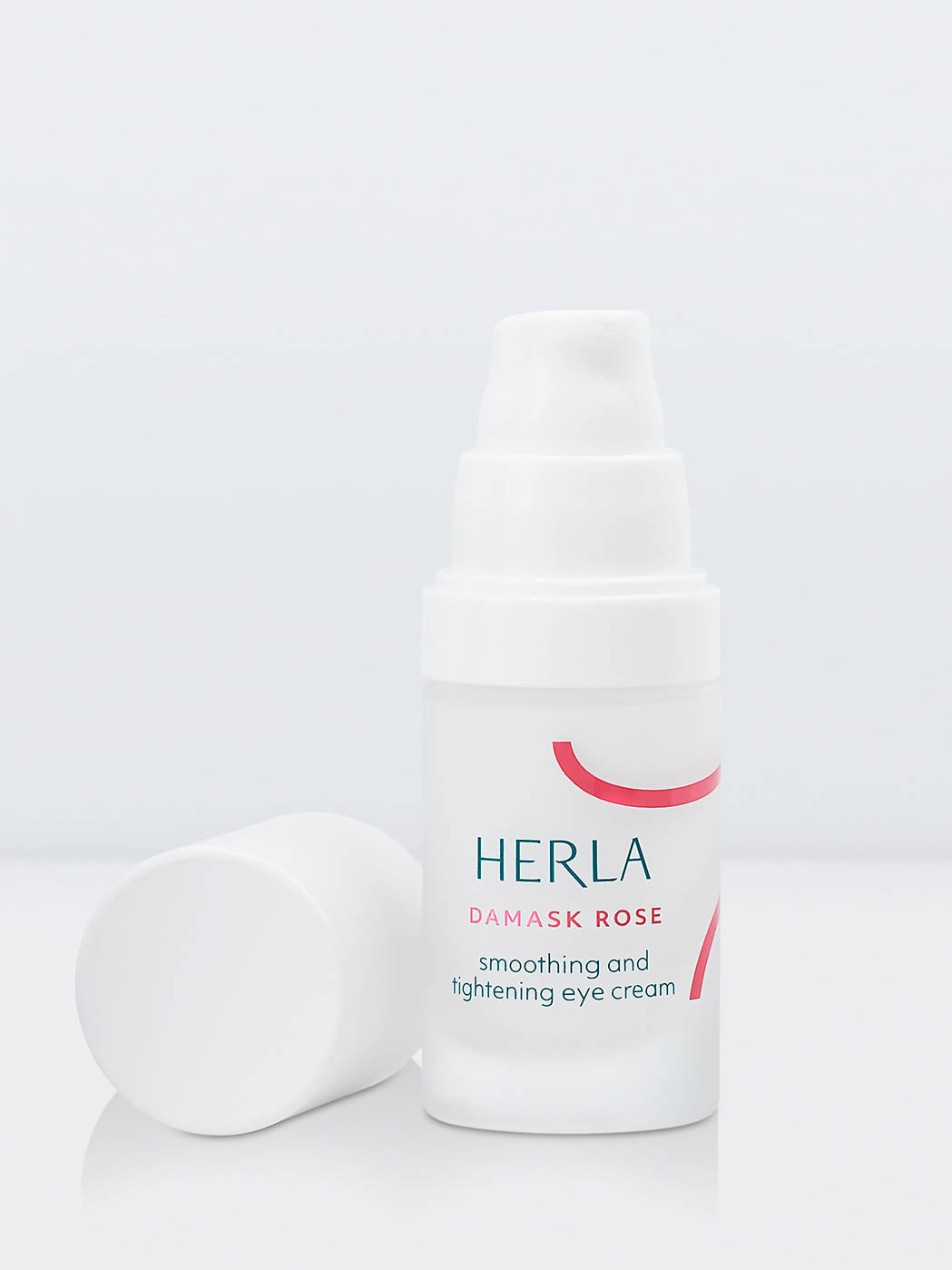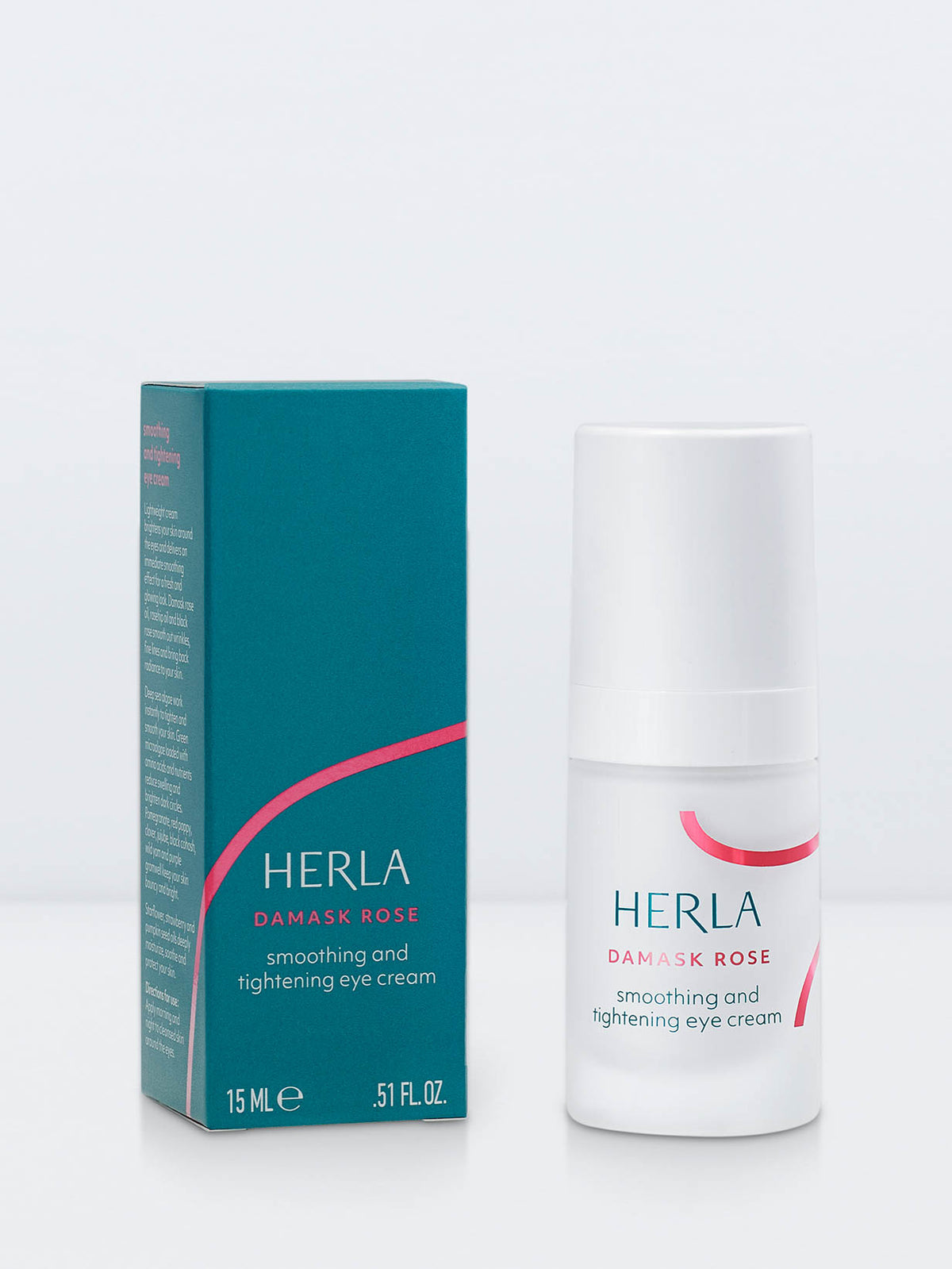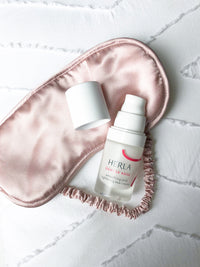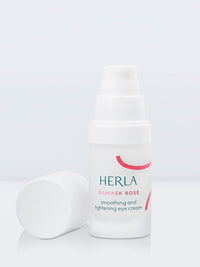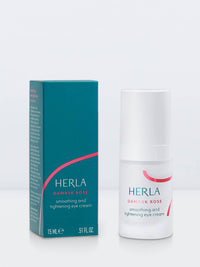 damask rose
smoothing and tightening eye cream
erase those late nights and instantly refresh and brighten tired puffy eyes
description
how to use
ingredients
origins
Eye cream brightens your skin around the eyes and delivers an immediate smoothing effect for a fresh and glowing look. Black rose, damask rose oil and rosehip oil smooth out wrinkles, fine lines and bring back radiance to your skin.
Deep sea algae work instantly to tighten and smooth your skin. Green microalgae loaded with amino acids and nutrients reduce swelling and brighten dark circles. Pomegranate, red poppy, clover, jujube, black cohosh, wild yam and purple gromwell keep your skin bouncy and bright.
Starflower, strawberry and pumpkin seed oils deeply moisturize, soothe and protect your skin. Gromwell tones and purifies. Provitamin B5 binds water into your skin and heals its damages.
Apply morning and night to cleansed skin around the eyes.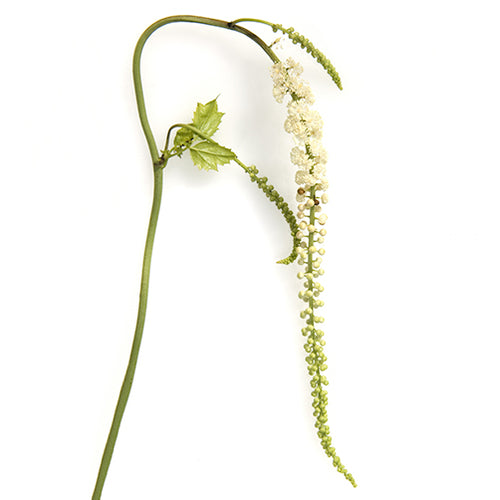 black cohosh
black cohosh (cimicifuga racemosa) is a plant that originates from North America. its dried root has been traditionally used in Native American and Chinese herbal medicine and is today popular as a dietary supplement for balancing women's hormones. black cohosh contains phytoestrogens that help control hormonal imbalances which may lead to wrinkle formation, acne or dry skin. the root itself has anti-inflammatory properties and improves the feel and appearance of your skin.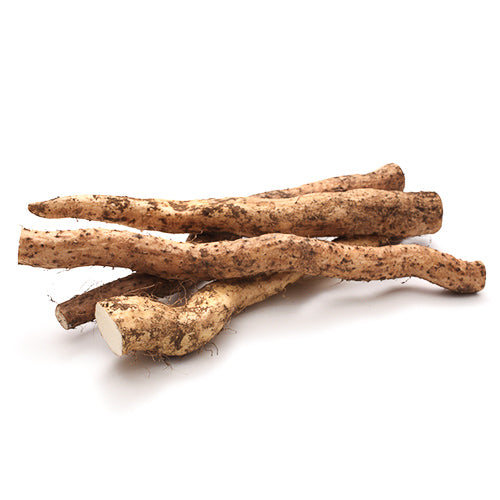 wild yam
Japanese wild yam (dioscorea japonica) is a type of yam that grows in Japan, Korea, China, Taiwan and Assam. its root contains saponins (like diosgenin) which have highly regenerating properties and fight the loss of collagen in your skin. it soothes inflammation and is rich in antioxidants. wild yam helps improve the appearance of hyperpigmentation and sun spots, and promotes skin youthfulness.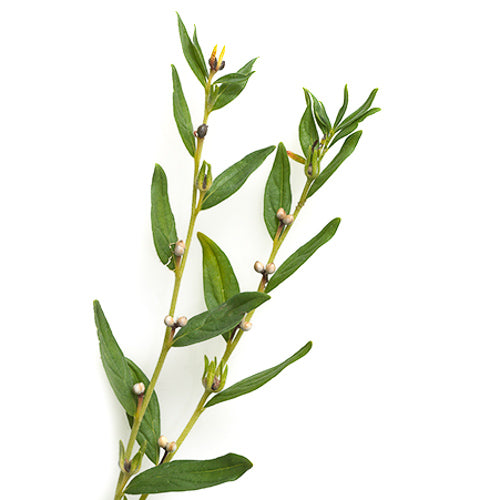 purple gromwell
purple gromwell (lithospermum erythrorhizon) is a plant that has been cultivated in Asia for centuries. its root has become a popular medicinal herb in Japan, China and Korea due to its healing, anti-inflammatory and antiseptic properties. it contains allantoin, an active ingredient used for detoxifying and smoothing skin, promoting skin renewal and wound healing.
red poppy
red poppy (papaver rhoeas) is a flowering plant native to Europe. its petals are popularly used in extracts, herbal tees and cough syrup. red poppy contains alkaloids which relax and smooth wrinkles as well as soothe dry, irritated skin.
pomegranate
pomegranate (punica granatum) is a small fruit-bearing tree native to the Mediterranean, also cultivated throughout parts of Asia and the Middle East. pomegranate is rich in polyphenols and powerful antioxidants that fight free radicals and have youth boosting properties. it is deeply hydrating and full of vitamin C to make your skin look healthy, bright and plump. this ingredient is ECOCERT certified.
jujube
jujube (zizyphus jujuba) is a small fruit-bearing tree that is native to China, where it is an essential diet component. it is rich in antioxidants, vitamins A, C, B1 and B2, and amino acids. jujube is deeply moisturizing and calming, and improves your skin's firmness and elasticity.
damask rose oil
Damask rose (rosa damascena) is the queen of all roses, known for its fine fragrance and soft, velvety pink petals. it's named after the city of Damascus in Syria, its place of origin. Damask rose oil is extracted from fresh flowers picked in the morning just before its distillation. it is rich in vitamins C and A (retinol) that smooth out wrinkles and lines, and improve skin's elasticity. Damask rose oil has nourishing and healing properties, it helps reduce inflammation, evens your natural skin tone and can help prevent acne. its relaxing aroma is very calming and improves the mood.
rosehip oil
rosehip (rosa canina) oil is extracted from the fruit and seeds of the rosehip plant that is grown in Europe and regions of South America, primarily Chile. it is full of vitamins A, C and E, and essential fatty acids (e.g. linoleum acid). it prevents your skin from water loss and keeps it youthful and vital. rosehip oil brightens your skin, boosts its radiance and has antioxidant and anti-inflammatory properties.
black rose
black Baccara rose (rosa hybrid) has been cultivated in France since 2000 and is considered one of the most sophisticated rose flowers due to its black-tinged, deep red colored petals and their delicate texture. black rose stands out in the rose family due to its high cyanidin content also found in many red berries, which is a powerful antioxidant. it protects your skin against external aggressors that cause aging and helps regulate sebum production.
shea butter
shea butter (butyrospermum parkii) is extracted from the shea tree nut native to Africa. it has high concentration of fatty acids and vitamins A, E and K. it has healing and soothing qualities and creates a protective layer over skin that locks in moisture. it is excellent for moisturizing very dry skin and nourishing dull skin. shea butter combats oxidative stress and helps improve the appearance of wrinkles.
algae
chlorella vulgaris is a microscopic green algae that appeared on earth more that 2 billion years ago. it is high in vitamins A, C, E, all the Bs, lipids, omega-3, protein (all 9 essential amino acids) and lots of minerals. algae greatly improves skin's elasticity and firmness, smoothes it out and delivers nutrients that help with skin regeneration. it is an excellent source of chlorophyll which helps your skin detoxify and cleanse. it is full of antioxidants and improves the appearance of aging skin. this ingredient is ECOCERT certified.
pumpkin seed oil
pumpkin (cucurbita pepo) seed oil is extracted from pumpkin seeds and can be traced back several thousands of years to its origin in Oaxaca, Mexico. it is grown today in many parts of the world. it's rich in omega-3 and omega-6 fatty acids, minerals and vitamins A, B and E. it helps retain moisturize and soothes your skin. its zinc and selenium content is especially good for oily skin. pumpkin seed oil also helps fight acne, and increases firmness for a renewed appearance.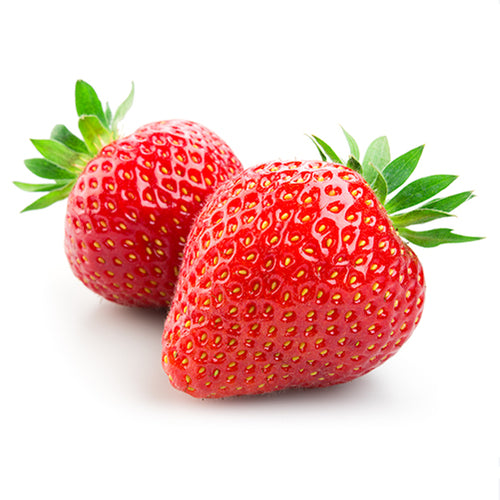 strawberry seed oil
strawberry (fragaria ananassa) seed oil is made of the tiny seeds of strawberries, which, originated in France, but are grown globally. it contains alpha hydroxy acids, salicylic acid, vitamin C and exfoliants – perfect for cleansing and toning your skin. strawberry seed oil tightens pores and helps control acne and blemishes. it is popular in eye care as it eliminates dark circles and puffiness, helps minimize wrinkle formation and moisturizes.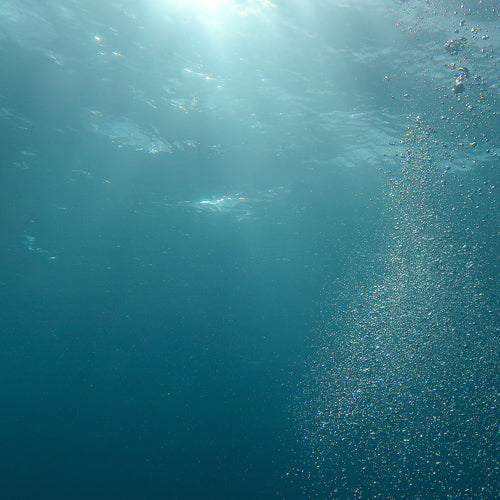 alteromonas
alteromonas ferment extract is made of an exopolysaccharide produced by marine plankton that is secreted directly into their environment to provide protection, nutrition and adhesion. it's a highly hydrating ingredient due to its water-binding and soothing properties. it facilitates skin rejuvenation, increases its firmness and elasticity, and smoothes out wrinkles and lines. this ingredient is ECOCERT certified.
starflower oil
Starflower (borage) oil is produced from the seeds of borage plant (borago officinalis). It's known for having the highest content of gamma linolenic acid (GLA). Borage oil is excellent at improving skin's protective barrier, helps fight skin inflammation (eczema, rosacea and psoriasis), and calms redness and irritation. Borage is a perfect solution for dry skin to boost its moisture level.
see full ingredients list
Water/Aqua, Isopropyl Palmitate, Glycerin, Isocetyl Stearate, Cetearyl Glucoside, Borago Officinalis (Starflower) Seed Oil, Cucurbita Pepo (Pumpkin) Seed Oil, Stearyl Alcohol, Propanediol, Cimicifuga Racemosa (Black Cohosh) Root Extract, Dioscorea Japonica (Wild Yam) Root Extract, Lithospermum Erythrorhizon (Purple Gromwell) Root Extract, Papaver Rhoeas (Red Poppy) Petal Extract, Punica Granatum (Pomegranate) Fruit Extract, Trifolium Pratense (Clover) Leaf Extract, Zizyphus Jujuba (Jujube) Fruit Extract, Rosa Hybrid (Black Rose) Flower Extract, Rosa Damascena (Damask Rose) Flower Oil, Rosa Canina (Rosehip) Fruit Oil, Chlorella Vulgaris (Algae) Extract, Alteromonas Ferment Extract, Sodium Hyaluronate, Fragaria Ananassa (Strawberry) Seed Oil, Butyrospermum Parkii (Shea) Butter, Tocopheryl Acetate, Panthenol, Stearic Acid, Glyceryl Stearate, Octyldodecyl Myristate, Sodium Polyacrylate, Phenethyl Alcohol, Propylene Glycol, Xanthan Gum, Phenoxyethanol, Dehydroacetic Acid, Benzyl Alcohol, Fragrance, Citronellol, Geraniol.
Poland
strawberry seed oil
DERMATOLOGICALLY TESTED & PROVEN
80% of women reported increased skin firmness and smoothness
75% of women noticed a tightening effect only 15 minutes after application
65% of women reported decreased appearance of wrinkles
90% of women would like to use the product regularly and would recommend it to their friends

*consumer study on 20 women, 22-58 years old, after 2 weeks of regular usage (applied twice daily)